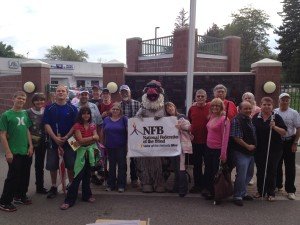 Sean Malone hadn't thrown a baseball since he lost his vision to diabetes in 2009. That changed Saturday at the Idaho Falls Chukars baseball game. It was like Malone had never taken a break. As the ball came over home plate, spectators erupted into cheers. Malone described the experience as "awesome."It was cool to be out there to (throw the first pitch)," the 45-year-old said.
The Chukars lost the game to the Orem Owlz 9-4 but already had clinched a spot in the Pioneer League's playoffs earlier that week. The Idaho Falls native wasn't just throwing the pitch for fun, though. He was raising awareness for the National Federation of the Blind, a nationwide nonprofit organization. Founded in 1940, the> group advocates civil rights and equality for the blind. It also develops education, technology and training programs to help the blind, as well as those losing their vision, to become independent. Malone is an active member the federation'sSnake River Valley chapter.
Earlier this year, the Chukars> contacted the federation about having an wareness> day, a part of the Fred Meyer> Community Spotlight Program,> Chukars general manager Kevin Greene said. Through the program, Fred Meyer sponsors a local nonprofit for 19 of the 38 home games, Greene said. "It gives are non-profits an opportunity to come out, set up a table, throw out the first pitch and romote awareness ( of their organizations)", he said.
Marissa Korth, Chu- kars promotions coordinator, said Malone did a great job. "He was an awesome sport," Korth said. "He made it to the catcher and had a really great time." The fed- eration Malone said he'd do it again in a heartbeat, especially since he was allowed to keep the baseball
[trafficplayer_skin padding: 28px 0 0 68px; margin: 0 auto; width: 652px; height: 411px; background: url(https://nfbidahofalls.org/wp-content/plugins/traffic_player_free/images/skin4.png) no-repeat top left; text-align: left;][trafficplayer_youtube_video width="578″ height="326″ src="http://www.youtube.com/embed/NHZ3ZQbyy-8?&autohide=1&autoplay=0&controls=1&hd=1&rel=0&showinfo=0″ ][/trafficplayer_youtube_video][/trafficplayer_skin]