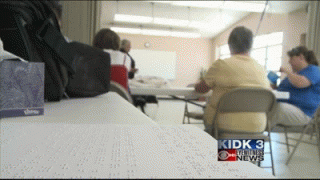 two-week summer camp for children who are blind or have low vision kicked off at the Idaho Falls Parks and Recreation Department today.
The camp is a part of the Braille Enrichment for Learning and Literacy program sponsored by the National Federation of the Blind of Idaho. Children ages 4-12 are taught skills that will help them for the rest of their lives.
Program coordinator Vicki Bateman started the camp after another BELL camp saw success last summer in Boise.
"Whatever level they are at, we're teaching them more," said Bateman.
Monday, the children practiced reading and writing Braille, but Bateman says there are many other important skills to learn.
"Things that lots of times most people do for them," said Bateman. "Like cooking."
The campers also designed their own canes and learned to walk with them. Many of the children have low vision, but Bateman encourages the kids to use sleep shades.
"It's a way to help them master the skill and feel confident," said Bateman.
Organizers are hoping the children enjoy the camp, and there is still a demand for it to continue next summer.